Getting Power To Your
Pop Up
After reading the many questions posted on newsgroups and receiving
e-mail on how to hook up your camper at home, I decided it was
time to devote a page just on this subject.
CAUTION: If you do not know anything about electrical codes
and terms then leave these projects to the professional electrician.
Here you will find how to install a camper outlet on the outside of
your home, in your back yard, and even installing a new meter base
service to power up your camper.
New Meter Base Service
Here I am installing a new utility pole with a new meter base with
all of the hook up receptacles for your camper. On a project like
this you must obey all electrical codes, purchase your permit, and
have it inspected by either a state,county, or city inspector. It
must be installed correctly or your power utility company will not
hook you up. In most cases a lic. electrician is required to undertake
this project.
| | |
| --- | --- |
| | |
| Here we installed a meter Pak and drop out 2 circuits. The 30 amp RV receptacle is located on the left while the 20 amp GFI receptacle was installed on the right. The 30 amp RV receptacle was protected with a GFI 30 amp single pole breaker. | This shows the 20 ft. pole installed. We used #2 aluminum wire and protected it with 1 1/4" PVC pipe. |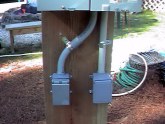 This shows a close up of the receptacles installed.