Major Project Year 2001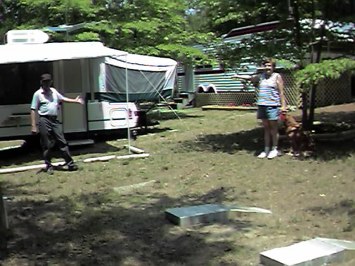 Our Dream has become Reality !
When someone ask me what my hobby is I just say "camping in a pop up
camper". Pop up camping has many awards. Most everyone's income
can afford camping in a pop up camper. Good used pop ups can be
purchase for as little as $200. Pop ups get you off the ground and into
a camper that can offer you as much as you want it too.
Camping is Fun ! It is educational for the children ! And it keeps familys
together.
We have experience this, plus the friendship of the many friends we
have met while camping and looking forward to making
more friends.
All of this has inspired us to promote camping and especially
pop up camping by living our dream:
Owning our very own private Pop Up Campsite !
We call it the ultimate pop up campsite!
We invite you to enter our dream and into reality of our campsite. Our
Dream Project is very photo intensive and we ask you to
give time for the photos to load. Hope you
all enjoy our largest project ever !