Glad you decided to visit our campsite or should I say Our Dream
Project !
This project took a lot of hard labor and we accomplished the project
in 10 weeks. We have always dream of having our own camping
lot but the real purpose was to share it with our friends when invited
and to introduce non camping friends to the wonderful world of
camping. Especially Pop Up Camping !
So sit back, relax, enjoy the photos and story and if you have
any questions or comments please e-mail them to us.
Our campsite is located on
Lake Royal, North Carolina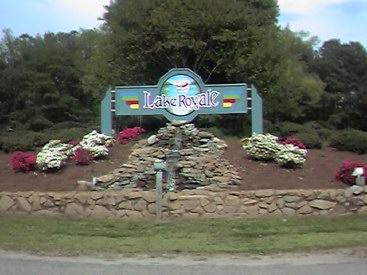 The property owners association offers all property owners
the following:
Maintenance staff

Boat ramps

Office staff

Boat docks

Secured gate entry

Swimming Pool

Police protection

Children Pool

Red Cross shelter

Tennis Courts

Beaches

Playgrounds for children

Community center/lodge

Previlion

Exercise room

Miniature Golf

Shuffleboard

Boating

Fishing

Picnic Pavilions

Picnic areas

Volley Ball Courts

8 Comfort Centers

Dump Stations

Laundry Mats

Private Dump Site

Church services

Spring Bass Tournament

and More !

Now that you know a little about Lake Royal let us begin
our project from the beginning.
This is what we started off with. Weeds were 3 feet tall,

broken limbs all over the place, tick invested and a few

rotten trees.




The beginning stages of the clean up . It took us

two week ends just to get the lot to look like this.

On our lot the 5th wheel above was part of the deal. Really

it was free ! It is a 1973 Blazon and built like a tank. The

inside was like from the factory with just minor repairs but

the exterior was in store for a major paint Job.

The photo on the left was taken from the roof of the RV,

showing the lot cleared and cleaned up. Then we started

to lay in underground water pipe and electrical for

two pop up sites.

The power requirements was fairly extensive. The meter

base had to be moved cause the drop line was running

about 6 inches above the RV which was an unsafe matter.

The base was moved to the front of the RV. On the RV I ran

an 30 amp feed plus another 30 amp & 20 amp for future

expansion. Then I installed another 100 amp panel to

feed the 2 pop up sites with both 30 and 20 amp feeds.

Low voltage lighting then branch off from each site.

By being an electrician the dollar savings was great

on such of a design.

When designing the pop up sites, above all I wanted

level foundation pads to simplify the set up.

Below photos show our guest site foundation pads.

Our Fire pit
We are very please with our fire pit. A fire pit is a must have

item when you are camping. I took a 55 gal barrel and

cut the top out at 8 inches wide. Don't throw the other

end away ! Save it as a spare. Then we buried it into the

ground. Then we laid rock around the ring and use a little

concrete to hold the rock together. The grill rest on 4 rebar

holders which can be purchased at Lowe's for 49 cent.

Really works great ! Our next step was to surround the pit

with pebble rock. Don't the steaks look good cooking

over the fire ? Guess what? They were !!

Our next thing to add to the fire pit was seating

benches around the fire. They are position so that other

chairs and lounges can be position around the fire.







We just love our

fire pit !

We then turn our attention to the 5th wheel and gave

it a fresh clean paint job. We painted the 5th wheel with

Valspar Duramax gloss enamel by using an electric

sprayer. The paint works out great. Then we added the

lattice and flower planter and other landscaping

features on the lot as pictured below.

The planting of flowers and other plants I left it

up to Betsy. She can throw it on the ground

and it will grow.




Well the grass is growing, the flowers are growing and

even the tomatoes plants are taking off. It was a lot of work

and we still have a few things we would like to do,

but for now we are going to just start doing some

very serious camping.

Now that you have seen our campsite and latest project,
we would like to share some photos of Lake Royal.
| | |
| --- | --- |
| | |
| Beach Area | Boat Dock |
| | |
| Clubhouse | Pavilion |
| | |
| Miniature Golf | Lake View |
| | |
| Playground | Horseshoe Pit |
| | |
| Spillway | Pool |
| | Volley Ball Court |

How did you like our dream project ?
I will not post our total investment but if you e-mail us I will
forward it to you.
YOU WILL BE SHOCKED !!
Later updates we will be featuring the inside of the
5th wheel.
Hope you enjoyed our latest project so until our
next project,
HAPPY CAMPING EVERYONE !!